Change Of Baton At Seme Command, As Bomodi Takes Over From Dera
By Okezie Nnadi
…Surpasses Annual Target In Nine Months*
Nigeria Customs Service, Seme Border Command exceeds its 2023 revenue target of N1.96 BN, by N122million with a total collection of N2,088,578,048.03k as at the middle of September 2023.
Comptroller Dera Nnadi, the immediate past Customs Area Controller of the command who disclosed this while handing over to his successor, Comptroller Timinadi Bomodi at the Seme Krake Border also praised the various anti smuggling strides achieved under his watch at Nigeria's busiest land border
Nnadi who has since assumed duty as Area Controller of Tin Can Island Port Command in Apapa, listed the uncovering of fake six million US dollars equivalent to N2.7billion from trans border smugglers; 9500 units of 50kg bags of rice equivalent to sixteen (16) trailer loads of foreign parboiled rice with Duty Paid Value of N312,242,064.93k; 15,094 x 30 liters Jerrycans of Premium Motor Spirit equivalent to 455,850 liters or 15 petroleum tankers with a Duty Paid Value of N738,276,461k; 15,389 units of General Merchandise Goods as part of seizures made in the last eight months
Hard Drugs and Narcotics seizures made within the period included; 594 parcels of Cannabis Sativa; 4,900 Tablets 225mg of Tramadol Tamol-X; 3,600 Tablets 225mg Tramadol Royal 225; 157 Tablets of Heineken Ecstacy; and 864 Packs of Cigarette.

He also commended his officers, sister agencies of government, the business community and members of the host communities for their support while asking that more of such support be given to his successor.
Comptroller Bomodi gave assurances of sustained seamless trade across the border and diligence in implementing the recently signed pact between Nigeria Customs and the Benin counterpart
Speaking on the outcome of a recent meeting in Abuja between customs administrations of both countries, Bomodi said "If what was proposed would come into fruition, it means that the functions of Nigeria Customs Service is going to extend beyond the borders and it is going right into the corridor of Benin Republic, vis-a-vis the operations of Benin Customs would also extend beyond its borders right into our ports "
"It is going to be a symbiotic relationship and we cannot expect anything less than what we give, we expect excellence on both sides of the divide and hopefully, it would be transformative.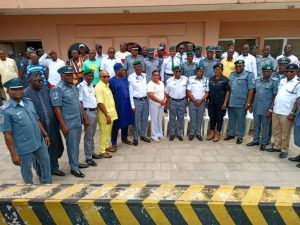 "Once you enhance trade, your capacity to generate more revenue is also enhanced, once people can move freely, goods can move freely, if services can move freely in this corridor, we are talking about the African Continental Free Trade Agreement and what this entails is generating revenue in trillions of dollars, it is totally transformative for Africa and we need to trade more along this corridor.
"We cannot trade more if our processes and systems are not properly aligned, and thinking of both sides of the divide must be properly synchronised"
Speaking, on multiple agencies along the border road ,Bomodi said "There would be a concerted effort to ensure that those who are not supposed to be on this corridor do not come back, either temporarily or long term. This was one of the issues addressed by both administration, it is not economic for trade, if you travel from Cotonou to Cote-de-ivore, i am sure you cannot find these.
"In no distance time, those responsible for managing these sister organisations would take the bull by the horn and ensure that multiple checks are eliminated.
We have not doubt that with the resolve at the highest level of the presidency, it would come to fruition in no distant time.
"The best form of inter agency collaboration is having regular interactions. This also forms part of the agreement we have had, to be meeting on Quaterly basis on anything that affects trade on this axis"
The outgoing Comptroller reminded the gathering of the the primary assignment if the NCS in the area which includes, facilitation of legitimate trade, collection of revenue for government and enforcement of government fiscal policies.
According to him, these are critical roles we intend to play without undermining the well-being of people living and doing their work in the border areas.